We first came across Independence Park in 2007 – when one of our clients fell in love with this South Austin neighborhood.
Independence Park Homes For Sale
[wnt_grid maptype="disabled" exactcity="1″ ownertype="all" paginated="false" sortoptions="false" maxresults="50″ search_mode="form" primarysearchtype="active" searchtype="subdivision" state="TX" single_family="y" min_price="19000″ max_price="2000000″ listing_status="Active,Active Contingent,Pending,Pending – Over 4 months,Pending – Taking Backups" subdivision_text="Independence" zip_code="78745″ /]
There are a little over 230 homes here all in the contemporary craftsman style which promotes front porch living. Despite being in a condo regime, they are all detached homes varying between about 1,200 and 2,500 square feet. While you have your own yard, the Independence Park Homeowners Association takes care of the common area maintenance for around $100 per month. That includes the miles of walking trails, the wildlife area and the duck pond!
There were only two home builders for this neighborhood – Scott Felder and Newmark, and both made very practical homes in a variety of different floor plans, taking advantage of the trees that were already present in the area when building began between 2007 and 2012.
Schools
The local AISD schools are
Cunningham
Covington
Crockett
Location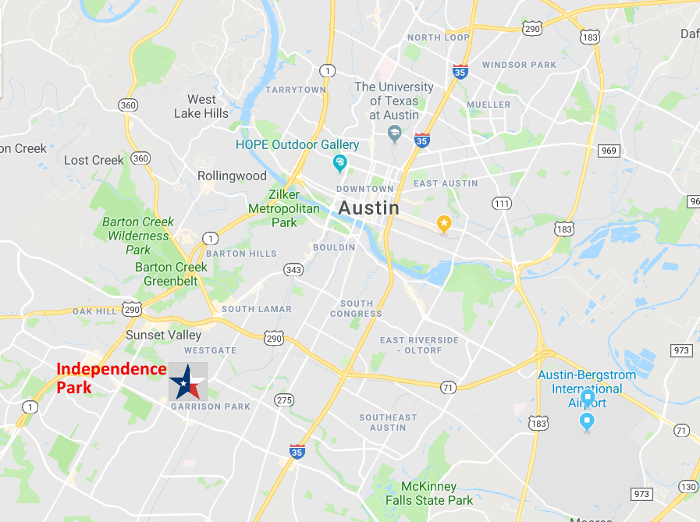 Independence Park is nestled in 78745 opposite Garrison Park, and is about six miles south of Downtown. The neighborhood is accessed from Manchaca between Stassney and William Cannon close to the retail area at Westgate, so you're not far from a Central Market, Amy's Ice Cream and Austin Community College.
If you're interested in taking a tour of the area or viewing any of the homes there, please get in touch on 512 215 4785.