Texas is a non-disclosure state, so the sales price of a home is a closely guarded secret – known only to agents, appraisers, banks and not even the local taxing authorities were privy to the data. So how can you protest your home's valuation based on comparable sales? Let's take a look at what happens in a typical purchase first.
What Happens When Someone Buys a Home in Texas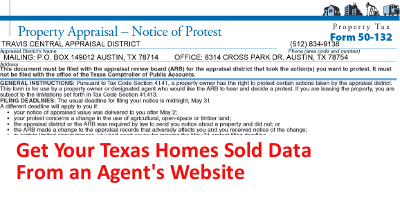 Recent Buyer purchases a home – maybe it was listed in the Multiple Listing Service, maybe it wasn't. The county appraisal district sends Recent Buyer a note asking for your house sale price after she has moved in. The note looks official and Recent Buyer might fill in the data and send it back, especially if her real estate agent hasn't told her she doesn't need to.
At some point in the year, the appraisal district estimates the value of Recent Buyer's home. When she wants to argue that the value is less than the estimate she needs to know the price that other comparable homes have sold for. So RB goes back to her agent and asks for a report of sales price data which the agent can pull from the Multiple Listing Service. This won't include non-MLS sales and some new construction perhaps.
Do I Have To Talk To A REALTOR To Get Sold Price Information?
You can certainly contact an agent and get them to provide MLS data for you.
But is there another way to find out how much a home sold for? Well despite Texas being a non-disclosure state, there was a settlement between the Department of Justice and the National Association of Realtors some time ago which essentially means that any consumer signing up to use an agent's Virtual Office Website (think MLS listings and data) can be given the sold price of a home if it is useful to their property search – for example to let them build a picture of home values.
This could clearly be used by anyone who just clicked through the disclaimer forms on a REALTOR website and wanted to access sold prices.
So yes, the easy way to get home price data late at night before your property appraised value protest without waking up an agent is just to sign up to the correct REALTOR websites and download it.
Sherlock Homes Austin helps buyers and sellers throughout the Austin area to use accurate information in their property searches. Call 512 215 4785 if you would like some expert assistance.