Anyone considering a family move to or within Austin Texas will want to see where the top schools are when they look at a home. Here is our roundup of top schools.
Top Elementary Schools in Austin Texas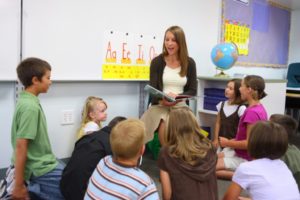 Canyon Creek Elementary School
A small neighborhood school that is located in the northwest Richardson. Canyon Creek is a kindergarten through sixth grade school where there are two sections of each classes in each grade level.
Canyon Creek Child Development Center which is an educational program for the 3 and 4 year old children of RISD's employees.
Canyon Creek houses Enterprise City which allows students in sixth and seventh grades to participate in a mini-city simulation that introduces them to their future roles as producers and consumer.
They offer specific Enrichment Clusters for both fall and spring semesters.
Canyon Creek has a very caring, supportive and professional staff.
Spicewood Elementary School
International Baccalaureate (IB) Primary Years Programme (PYP) school
Currently serves approximately 800 students and has 70 teachers and staff members
Earned distinction designation in all of the campus achievement categories by Texas Education Agency
Currently on the tope 5% of the 8,574 schools in Texas
Lakeway Elementary School
Lakeway Elementary School is a learning community where everyone is nurtured, respected and challenged.
Teaching a comprehensive curriculum that emphasizes scholastic excellence
Lakeway Elementary strives to create a positive learning environment geared to meet the needs of its students and teachers
On a rotating basis, the campus offers art, music, physical education and a variety of computer classes
Offers support programs such as Resource, Learning Lab, Content Mastery, Speech, Special Education, Discovery (Gifted and Talented Program), counseling, health services, UIL academics, after-school extended care, tutorials and community education classes
Top Middle Schools in Austin Texas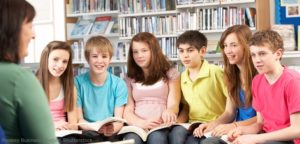 Lake Travis Middle School
Part of Lake Travis ISD
Currently employs 65 teachers who have been with the organization for about 6 years
Teachers have average 14 years of experience in teaching
The school received an accountability rating of "met standard" by the state of Texas which is according to their performance in relation to the state's academic accountability system
StartClass Rating of 10 – StartClass evaluated 9,520 schools in Texas on several factors including college entrance exam scores, state assesment, scores, and class size to determine a Smart Rating for each.
Lake Travis has considerabley better test scores than most middle schools in Texas – Lake Travis Middle is in the top 10% of Texas middle schools based on how its student body has performed on the state reading and math assesments.
Canyon Vista Middle School
World Class School that believes in empowering student success
Provides equitable opportunities for all students to achieve their full potential
Canyon Vista offers a variety of Electives for each grade level
Offers tutorials that make students redo the assignment to keep up with the standards
School Socials
Canyon Vista Middle School makes every decision whether instructional or operational will be driven by the guiding principle that places the students first.
Canyon Vista Middle School is the only Round Rock ISD campus with district owned swimming pool on school property
Cedar Valley Middle Sschool
Family atmosphere across the school
Students here learn to value their instructors, staff and peer relationships at schools
2015 Texas School to Watch which means this school is a model for middle schools and on the move toward success in the areas of academic excellence, developmental responsiveness, social equity and organizational structure
Top High Schools in Austin Texas
Liberal Arts and Science Academy
Four-year comprehensive, public, advanced academic magnet high school
Their program recruits the most academically advanced students from public and private middle schools in Austin
Admission to this high school is based on test scores, previous accomplishments and teacher recommendations
They educate socially responsible leaders, problem solvers, and thinkers through a nationally recognized curriculum
The curriculum for every course is written to go above and beyond state and district standards
Westlake High School
Part of the Eanes Independent School District
The only high school in the Eanes ISD which serves Southwest Austin
2011 Rank 72 on Newsweek Magazine's list of America's top High Schools
#1 high school in Texas according to Niche.com
Westlake HS excel academically as well as in music, arts and athletics
Offers full slate of Advanced Placement courses, a Career and Technical Education program, an acclaimed Performing Arts department, as well as special support programs like The Learning Center and Adult Transition Services
Westwood High School
Ranked #41 within the state of Texas
#249 in National Rankings
Advance Placement course work and exams to all students and further houses a district level International Baccalaureate magnet program
Known for its college preparatory programs
Westwood's Academy Program allows students to explore interests in different fields which is divided into five areas of study – Science, Technology, Engineering, and Math. Also includes business and Industry, Visual and Performing Arts and Health Sciences and as well as Public Service
Here's a map for reference: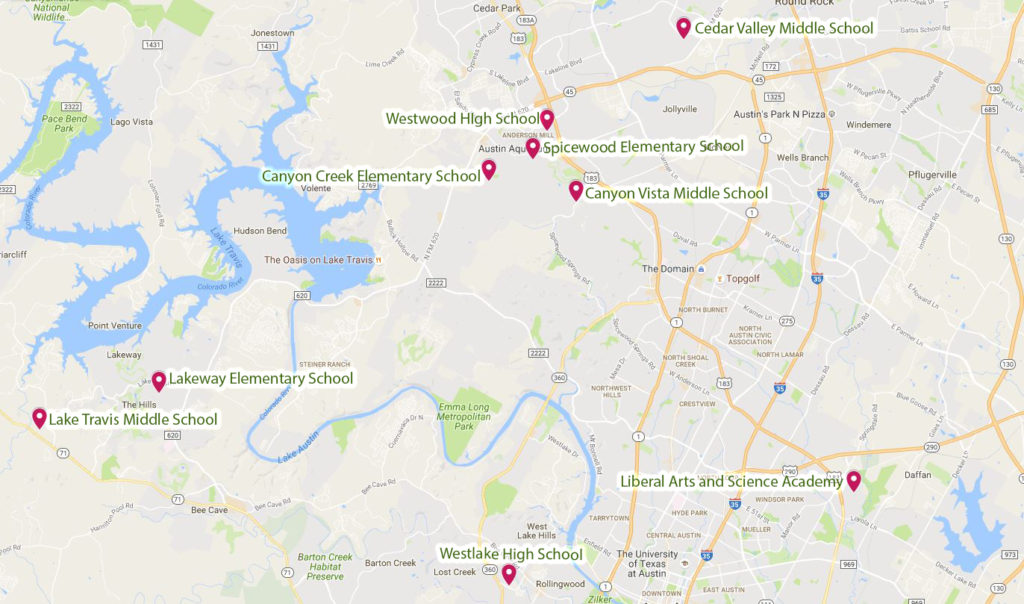 If you wish to know more about homes for sale anywhere nearby these campuses, or anywhere in Austin please do not hesitate to call us at (512) 215-4758 or check out more of our homes for sale here.